IHOP Supports Seattle Children's with National Pancake Day, March 1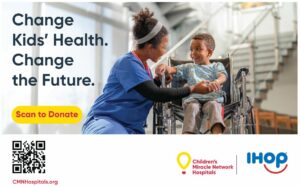 March 1 is IHOP National Pancake Day – the biggest day of the pancake year! Guests can visit their local IHOP from 7 a.m. to 4 p.m. for a free Short Stack of Buttermilk Pancakes and donate to Seattle Children's. All the money raised at IHOP restaurants stays local and goes directly to providing life-saving medical treatment and healthcare services, pediatric medical equipment and charitable care for children in need at Seattle Children's. 
IHOP has raised more than $470,000 for pediatric patients treated at our hospital since 2007.
Three ways you can help:
1. Stop in at participating IHOP locations with your friends and family during business hours on March 1 to celebrate National Pancake Day with a donation to Seattle Children's.
2. Share on social media using #NationalPancakeDay
3. Purchase a Miracle Balloon at participating IHOP locations now through March 1.
Learn more about IHOP and their 14-year partnership history with Children's Miracle Network Hospitals here.